Oracle founder Larry Ellison hands off CEO title to Hurd and Catz, takes executive chairman role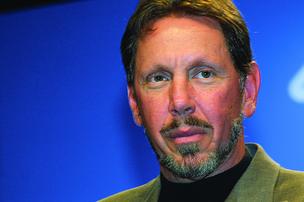 Is this good for the company? Should investors head for cover? (Stock is down 5% as of the date of this article.) Is that good for Mark Hurd or Safra Catz, the two who are left to
co-run
the company? Will anything change at Oracle? Is change necessary at Oracle?
Many questions remain in the now heralded changing of the guard at this venerable tech company.
But Ellison's own statements leave me to believe that
nothing really will change
at Oracle post his
departure
.
Question # 1
- Has there ever been a company in the history of capitalism that was successfully run by two people?
Come on Larry!
Make the tough decision on your successor put ONE person in charge. Don't leave it up to the two of them to have to politically joust to make important decisions.
Question # 2
- Why are you leaving if things are going to remain the same? If there is a reason for you to leave then
leave
and get out of the way. Let your very capable executives take the company to the next stage. Let them make the changes that you WOULDN'T have made. Let them be free to determine what needs to stay the same and what needs to change. Get out of their way.
While the article details that not much is changing in the way of Ellison's day to day responsibilities, one has to wonder WHY IS THIS HAPPENING?